Latest Articles from CMS Developer's Journal
Microsoft is outsourcing management of its internal IT services worldwide to Infosys under a three-year contract based on so-called "outcome pricing." The Indian company expects to use what it learns to support shared customers. The deal includes Microsoft's help desk, desk-side servic...
Apr. 19, 2010 07:00 AM EDT Reads: 7,404
Salesforce.com and VMware are gonna be shacking up together. CEOs Marc Benioff and Paul Maritz are scheduled to make a joint product announcement on "the future of cloud computing" on April 27 in a webcast at the suggestively named vmforce.com, a combination of two of their identifie...
Apr. 14, 2010 10:30 PM EDT Reads: 5,460
Sat lonely in my office, I remembered about a website that did everything that 'Dan the Mexican' could do and more, a site that pushed our message out to a bespoke and targeted audience, a site that supplied me with just as valuable information as 'Dan the Mexican' would give me during...
Apr. 1, 2010 06:15 PM EDT Reads: 20,985
Apple is beginning to know how Xerox PARC felt. Like Apple did to PARC, Google has lifted from Apple again this time on behalf of Google Apps and set up a Google Apps Marketplace where third parties can sell business programs that integrate with Google Apps to the two million compa...
Mar. 10, 2010 08:30 AM EST Reads: 30,483 Replies: 1
The coming years will be both exciting and challenging as we collectively migrate to integrated enterprise cloud computing. Speaking of enterprises, I owe all of you an article on preparing your enterprise for the cloud. I continue to work on it, but it's not quite ready yet. This...
Mar. 4, 2010 05:00 AM EST Reads: 22,093
Pew Internet has published the results of an important survey on how we're getting our news today. I haven't read the whole thing but one little point leaps out already: Among those who get news online, 75% get news forwarded through email or posts on social networking sites...
Mar. 2, 2010 08:00 AM EST Reads: 6,429
Webtrends, an enterprise customer intelligence company, today announced new Facebook measurement capabilities within Webtrends Analytics, which provides marketers the most comprehensive tracking and measurement for the activities that happen inside Facebook. Facebook's popularity is w...
Mar. 1, 2010 03:15 PM EST Reads: 2,210
Intellimon has just released a new software program, XCommentPro, which provides easy-to-use tools for commenting, rating and visitor interaction on websites. Designed for maximum control and functionality, XCommentPro is compatible with Dreamweaver, FrontPage, ExpressionWeb, XSitePro...
Feb. 25, 2010 07:40 AM EST Reads: 3,642
IBM on Thursday announced it is working with the British Library on a project that will preserve and analyse terabytes of information on the Web before it is lost forever. The new analytics software project, called IBM BigSheets, helps extract, annotate and visually analyse vast amoun...
Feb. 25, 2010 06:00 AM EST Reads: 3,027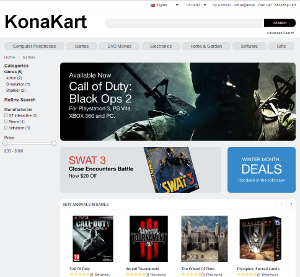 Coming at the end of a year of record growth, DS Data Systems is proud to announce a new release of its increasingly popular KonaKart eCommerce software.
Jan. 13, 2010 01:30 PM EST Reads: 5,732
Alfresco Software on Wednesday announced the availability of Alfresco Content Services for Lotus social collaboration products, an integration between the Alfresco open source enterprise content management (ECM) system and IBM Lotus Quickr, Lotus Notes, Lotus Connections and WebSphere ...
Jan. 13, 2010 05:02 AM EST Reads: 8,647
This is the time of year when people make their predictions for the next year. Building on some recent surveys and polls including: What's your take on Windows 7? Is IBM XIV still relevant? EMC and Cisco Acadia VCE, what does it mean?
Dec. 30, 2009 02:15 AM EST Reads: 9,736
Attunity Ltd. announced today that it has partnered with Open Text Corporation, an enterprise software company and a leader in enterprise content management, who will market advanced data connectivity solutions, including legacy decommissioning, data lifecycle management and real-time ...
Dec. 21, 2009 07:00 AM EST Reads: 5,766
Alfresco Software open source enterprise content management (ECM) solutions, and RightScale, cloud computing management, announced the availability of a joint solution that speeds deployment time and automates scaling of Alfresco software in the cloud. Utilizing RightScale's software-a...
Dec. 17, 2009 07:15 AM EST Reads: 8,343
Amazon and Google announced on Wednesday partnership between Amazon's self-service advertising program, and Blogger, the award-winning blog platform from Google. This new collaboration enables Bloggers to monetize their content by adding relevant Amazon products to their blog posts wit...
Dec. 16, 2009 06:45 PM EST Reads: 6,563
Run Drupal, WordPress, SugarCRM, or other PHP-based apps on Windows today with the free Microsoft Web Platform Installer. Microsoft WebsiteSpark is a specially designed program for PHP Web developers and designers to help you explore running on Windows. This program enables you to get ...
Dec. 11, 2009 03:30 PM EST Reads: 11,530
Attenda Limited announced that Ofwat has signed a new three year hosting contract for its new website application to be fully managed by Attenda. Ofwat is the economic regulator of the water and sewerage sectors in England and Wales. They make sure that the water companies provide hou...
Dec. 9, 2009 10:45 AM EST Reads: 5,849
Visual WebGui, a platform for developing business and industry tools, announced a new application with the launch of E-grou's 5.0. Visual WebGui has increasingly become the choice tool for developers creating corporate and management solutions for businesses of all sizes. Its latest s...
Dec. 2, 2009 02:00 PM EST Reads: 16,117
Performance implications of certain CSS Selectors are not specific to a certain JavaScript Library like Prototype. I recently blogged about the internals of CSS Selectors in jQuery. The same holds true for every JavaScript library that offers CSS Selectors. Certain lookups can be done ...
Nov. 30, 2009 03:00 PM EST Reads: 10,207
I read an article by an author on Ulitzer.com and was amazed at the professional image it provided him. I immediately researched Ulitzer to see if there was yet hope for me. I am a technology blogger on the subject of mobile computing strategies. As I was doing research I came across ...
Nov. 19, 2009 01:45 AM EST Reads: 35,583
As economic conditions improve, it will be those managers and organizations that can see opportunities which will flourish. And what we see is a function of how we think. We normally imagine that things work the other way round: that we see, and on the basis of the evidence in front of...
Nov. 14, 2009 12:30 PM EST Reads: 5,816
eZ Systems, the world´s largest open source content management software company, announced today that former IBM and BEA executive Christoph Rau will join the company as CEO, effective immediately.
Nov. 5, 2009 06:15 PM EST Reads: 6,896
Plone and Drupal are two leading open source Content Management Systems (CMS). Both were recognized in the 2009 Open Source CMS awards, run by Packt Publishing. Both also have large installed bases and large developer communities. This is made evident by some quick searching on Googl...
Nov. 3, 2009 03:15 PM EST Reads: 17,680 Replies: 2
Here's a little Drupal Tip O' the Day for our readers. As many of you know, we're platform agnostic here at Orchestra (meaning we run Macs, Linux, Windows and more), so we often end up discovering little tricks and tips about our different OSes. For those of you building a Drupal websi...
Oct. 29, 2009 06:15 AM EDT Reads: 13,235
Marketing, in more the one way, is like juggling. This strange analogy will become crystal clear if we take a close look at it. Just like the juggler the marketer too has to do these things to thrive in his business: first, he has to hook his audience; gain their attention through seve...
Oct. 19, 2009 11:00 AM EDT Reads: 8,714
42 content marketing tactics, over 50 case studies and hundreds of resources - "The Content Marketing Playbook: 42 Ways to Connect with Customers" is packed with lots of ideas to execute on your content strategy. Read on to get an insider look into the making of "The Content Marketing ...
Oct. 13, 2009 04:48 AM EDT Reads: 4,572
Extending the enterprise-wide Project Portfolio Management (PPM) capabilities of Oracle's Primavera product suite, Oracle today announced new releases of Oracle's Primavera P6 Enterprise Project Portfolio Management and Oracle's Primavera Contract Management. The new Primavera P6 Enter...
Oct. 12, 2009 11:06 AM EDT Reads: 11,749
ST. LOUIS, Sept. 23 /PRNewswire-FirstCall/ -- Amdocs (NYSE: DOX), the leading provider of customer experience systems, today announced the launch of the first retail solution designed to meet service providers' specific retail needs, and to address the increasing importance of the reta...
Sep. 23, 2009 04:01 PM EDT Reads: 2,173
Zimbra is open source server software for email and collaboration - email, group calendar, contacts, instant messaging, file storage and web document management. The Zimbra email and calendar server is available for Linux, Mac OS X and virtualization platforms. Zimbra syncs to smartpho...
Sep. 21, 2009 07:00 PM EDT Reads: 12,142
Prolifics, an end-to-end systems integrator specializing in IBM technologies, today announced that it continues to offer companies an easy transition to Lotus Web Content Management (WebCM). In today's fast-paced business environment, organizations must have the ability to effectively ...
Sep. 18, 2009 05:00 AM EDT Reads: 6,817
An innovative Internet-based mobile phone services provider, Telmore has been growing rapidly – and so has its online audience. Nearly 50,000 people per day visit the Telmore website, and the company currently has the highest volume of e-commerce transactions in Denmark. Telmore's con...
Sep. 11, 2009 01:15 PM EDT Reads: 5,036
The Cloud storage segment of the Cloud Computing ecosystem can provide a roadmap for how to create a viable, profitable cloud computing industry. That is the contention of the President & CEO of Mezeo Software, Steve Lesem, who will be giving a breakout session at SYS-CON's upcoming 4t...
Sep. 10, 2009 06:45 AM EDT Reads: 7,419
In 2006 Microsoft began releasing a series of designer focused tools. The big question was: Why? Adobe has the best tools, doesn't it? There is no doubt that Adobe's tools are very good, what is clear, however, is that Microsoft is taking design seriously for this to be accomplished Mi...
Sep. 7, 2009 08:45 PM EDT Reads: 16,103
In its second purchase in two days EMC said late Tuesday that it was buying eDiscovery shop Kazeon Systems Inc, whose software is used by corporations, law firms, government agencies and legal service providers. Terms were not disclosed and are too immaterial to impact EMC's result...
Sep. 2, 2009 11:45 AM EDT Reads: 7,046
Sam Gross is Vice President of Global IT Outsourcing Solutions at Unisys Corporation, where he leads the vision, strategy, technology development and implementation for Unisys innovative global IT outsourcing solutions. He is a recognized industry expert and thought leader in business ...
Aug. 18, 2009 08:30 AM EDT Reads: 8,836
Unfortunately, I don't know anyone personally who uses the company's services. And beyond a few vague testimonials, the company doesn't have any stories of other customers' successes. When prospects are looking for evidence from satisfied customers, are you delivering it? Here are 3 wa...
Aug. 11, 2009 03:45 PM EDT Reads: 5,302
'Antiquated' systems means the Government is not delivering Claims the Commissioner of the Chicago Department of Public Health during an exclusive interview for MeettheBoss.com
Aug. 10, 2009 11:30 AM EDT Reads: 8,205
Wildfire delivers a social media promotions platform. This is an interview with its CEO Victoria Ransom. We play in 2 categories, we're in the Social Media Marketing category and we're also in the promotions space. We've taken promotion formats that have been proven successful and hav...
Aug. 10, 2009 11:15 AM EDT Reads: 6,460
Bazaarvoice, the market and technology leader in hosted social commerce applications that drive sales, today announced that it serves more retailers on the 2009 Internet Retailer 500 ranking than any other social media competitor. Bazaarvoice dominates the Top 100, where it beats out i...
Aug. 10, 2009 11:00 AM EDT Reads: 10,044
It's clear that customer case studies and success stories are integral to the sales process. But how many organizations actually use them in every proposal? How do you bring your customer stories into your sales proposals? Here, Robin Haydon, Australian proposal-writing expert and aut...
Aug. 10, 2009 10:30 AM EDT Reads: 4,683